From March 2012, Kyoei Steel Vietnam Co., LTD. (KSVC) became an FDI enterprise with 100% of invested capital from Japan. This is a successful co-operation of three shareholders: Kyoei Steel Group holds 60% of shares, Metal One Corporation holds 20% and Marubeni – Itochu Inc. holds 20% of total shares.
About KYOEI STEEL GROUP:

KYOEI STEEL GROUP established on 21 August 1947, is a corporation with a long tradition in Japan. Currently, KYOEI STEEL GROUP is one of top ten largest steel companies in Japan with the charter capital is ¥ 18,546 billion, and net income was ¥ 142.3 billion (in March 2013). The Group has 6 factories in Japan and 8 subsidiaries.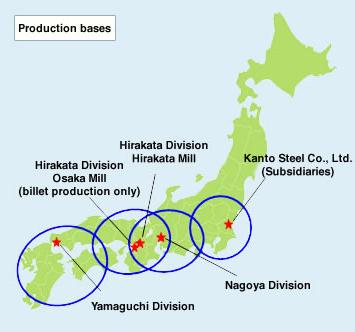 KYOEI STEEL is operating a community-based business in various areas in Japan, using the steel scraps generated in each area to produce steel products and supply them to local construction sites. KYOEI STEEL is also a pioneer in the material recycling business, specialized in the melting treatment of medical waste and industrial waste using the arc heat of electric furnaces, which reaches a few thousand degrees Celsius. Through the operation of steel minimills, KYOEI STEEL play a role in building a recycling-oriented society, where increasing amounts of waste are properly treated while products are produced.
About Vina Kyoei: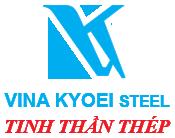 In 1994, Kyoei Steel Group invested in Vietnam in Vina Kyoei Steel Co., Ltd. in Ba Ria - Vung Tau. Vina Kyoei is a joint venture business among Kyoei Steel Group, Mitsui Corporation, Marubeni-Itochu Inc. and Viet Nam Steel Corporation. Now, Vina Kyoei is one of three biggest steel companies in the south of Vietnam. They are producing Deformed Bars, Thread Deformed Bars, Plain Bars and Wire Rods with annual capacity of 450,000MT.
Vina Kyoei Steel Co., Ltd. started operation from January 1996 and currently provides rebar, thread bar, wire rod with a capacity of 450,000 tonnes per year, by automatic production lines, synchronous and modern technology and the most advanced Japanese. Moreover, Vina Kyoei has succeeded in establishing human resource of young, dynamic and creative, so the plant has operated very well and very high effective production. Currently Vina Kyoei has become one of the largest steel 3 brand southern Vietnam. The "brother" Vina Kyoei is KSVC presence in the north of Vietnam is the increase of family Kyoei positions throughout Vietnam, to help bring quality Japanese steel reaches every people in Vietnam. The emergence of KSVC, which is Vina Kyoei's brother, in the North of Viet Nam is raising the presence of Kyoei's family in Viet Nam. That will help Kyoei bring Japanese steel to all Vietnamese people.
About Marubeni-Itochu Inc: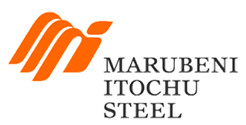 Marubeni-Itochu Inc. is a big corporation in Japan. Their capital is ¥30 billion. Before co-operating in KSVC, Marubeni-Itochu and Kyoei Steel Group have already together invested in Vina Kyoei Steel.
About Metal One Corporation:

Metal One is a big corporation in Japan. The Company was established in 2003 and their capital is ¥100 billion. Their net income was ¥2563.3 billion.
In Viet Nam, Metal One Vietnam (MOV) Co. Ltd. is 100% invested by Metal One Japan Corporation. Recognizing the great potential of manufacturing sector in Vietnam and high demand from construction field, MOV has invested more in Vietnam. Located in Ho Chi Minh, MOV established other two branches in Hanoi and Haiphong. MOV steel consumption has increased annually, which contributes to strengthen its brand name.